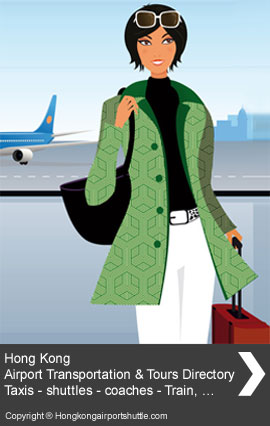 Hong Kong Airport
Hong Kong airport Chek Lap Kok is the main airport serving Hong Kong it has been designed by British architect Sir Norman Foster who also designed London Stansted Airport. It was claimed by its builders at the time of its building to be the biggest civil engineering project in history, the terminal building is the largest covered space in the world. A new terminal has recently been inaugurated (Terminal 2 hosts today Emirates and Hong Kong Express airlines) All other carriers operate from terminal 1. The airport is connected to city center by the Airport Express line - A modern train > Hong Kong airport train connection
Where is located HKG airport
Hong Kong airport is located on Lantau Island 21 miles from Hong Kong - Address: Airport Authority Building, 1 Cheong Yip Road, Hong Kong International Airport, Lantau, China
Telephone: 2188 7111 Hong Kong Airport Official website : www.hongkongairport.com
Airport transfer service
One of the most convenient mean of transportation between Chek Lap Kok and city center is the shared or private shuttle : Book in advance your > Airport transfers

Ground transportation directory - Taxis - Shuttles - Express Train - Ferry - Coach services se below.

Hong Kong airport hotels : Marriott, Sheraton, Regal, Novotel
HONG KONG AIRPORT HOTELS : The Regal Airport Hotel is connected to the passenger terminal by a covered walkway. Hotels include JW Marriott Hotel and Sheraton.
Silvermine Beach Hotel : Phone number 852 2984 8295
Regal Airport Hotel : Phone number (852) 2286 8888
Gold Coast Hotel : Phone number 852 2452 8833
Please note that Airport Express that connects Chek Lap Kok to city center enables Business travellers attending a convention or a meeting at Asia World Expo to stay downtown Hong Kong.
Airport terminal map
Click here to see the airport terminal map and locate counters and services: Hong Kong airport map
Airlines at terminal One & two ... Cathay Pacific & Eva Air
Terminal 1 : Cathay Pacific is the main airline operating : www.cathaypacific.com
Aeroflot, Air Canada, Air China, Air France, Air India, Air Mauritius, Air New Zealand, All Nippon Airways, Bangkok Airways, Siem Reap Airways, British Airways, China Airlines, Continental Airlines, El Al, EVA Air, Finnair, Hong Kong Air, Hong Kong Express, Japan Airlines, KLM, Korean Air, Lufthansa, Malaysia Airlines, Northwest Airlines, Qantas, Qatar Airways, Saudi Arabian Airlines, Shanghai Airlines, Shenzhen Airlines, Singapore Airlines, Swiss, Thai Airways International, United Airlines, Virgin Atlantic Airways
Terminal 2 : Emirates & Oasis Hong Kong Airlines
Asia World Expo center
Asia World Expo is the largest convention center in Hong Kong. It is located just 2 minutes away from the airport. Connection is operated by Airport Express line. Click here to get access to calendar of events and exhibitions and to official website > Asia World Expo
Directions: From Hong Kong Island, drivers should follow road signs to Western Harbour Tunnel. Once out of the tunnel, drivers should drive along the West Kowloon Expressway; follow airport road signs and cross the Tsing Ma Bridge to the airport island. Then continue along North Lantau Highway.
HKG DISABLED FACILITIES : The airport has good physical access and plenty of wheelchair-accessible toilets. There are lifts, ramps and escalators around the airport and car park spaces reserved for disabled drivers. Wheelchairs are provided free of charge by airlines, and lifts and telephones both have Braille signs. HONG KONG AIRPORT FACILITIES : Money and communications: Several bureaux de change counters, banks and ATMs are located throughout the passenger terminal. A post office is located in the Departures hall. Eating and drinking: There are more than 150 food and drink outlets. Shopping: Shops including gift and duty-free (Hong Kong SkyMart) are available.
Welcome to airport ground transportation portal for Hong Kong City : We provide information about ground transportation and a directory of transfers services between Hong Kong International Airport and Hong Kong Island or Kowloon... Taxis - Shuttles - Limos - Express Train.
Welcome to Hong Kong city. Terms - Privacy Policy - Copyright ® 2007-2009 Hongkongairportshuttle.com